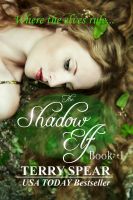 Book Synopsis from Book Cover: Persephonice is given the mission of distracting the shadow elves who are bound to learn what is blocking their water source before they discover a space ship is sitting in the middle of their river.
That's how all the trouble begins.
I like Terry Spear's  style of writing which I fell in love with when reading the first 3 books of The World of Fae series. The story starts out a little slow as we learn the particulars for this new world but you will definitely appreciate that later as the action kicks into gear. I also enjoy the sweet romance that blossoms between the main characters Persephonice and Dracolin as they struggle to stay together and out dodge the various different types of creatures (merman,griffons, water sprites and more) that want to covet or destroy Persephonice. It is a young adult book which I usually shy away from because I'm not particularly fond of reading about the trials of high school since I barely survived them myself (true story). I truly enjoyed reading the story line as it twisted and turned with surprises. It definitely is a must read if you like sweet romance or want something to suggest to your daughter to read together.